👩🏼‍🏫 7 modules ✅ 70+ exam questions ⏰ Over 3 hours 
🔖 Official certification 📝 Optional coursework 👨🏼‍💻 100% self-paced
Course overview.


You can try, and try, and try - but without a true understanding of enablement strategy you won't be able to succeed. This course will provide you with the knowledge you need to confidently implement world-class enablement strategies that you can use to create tangible results.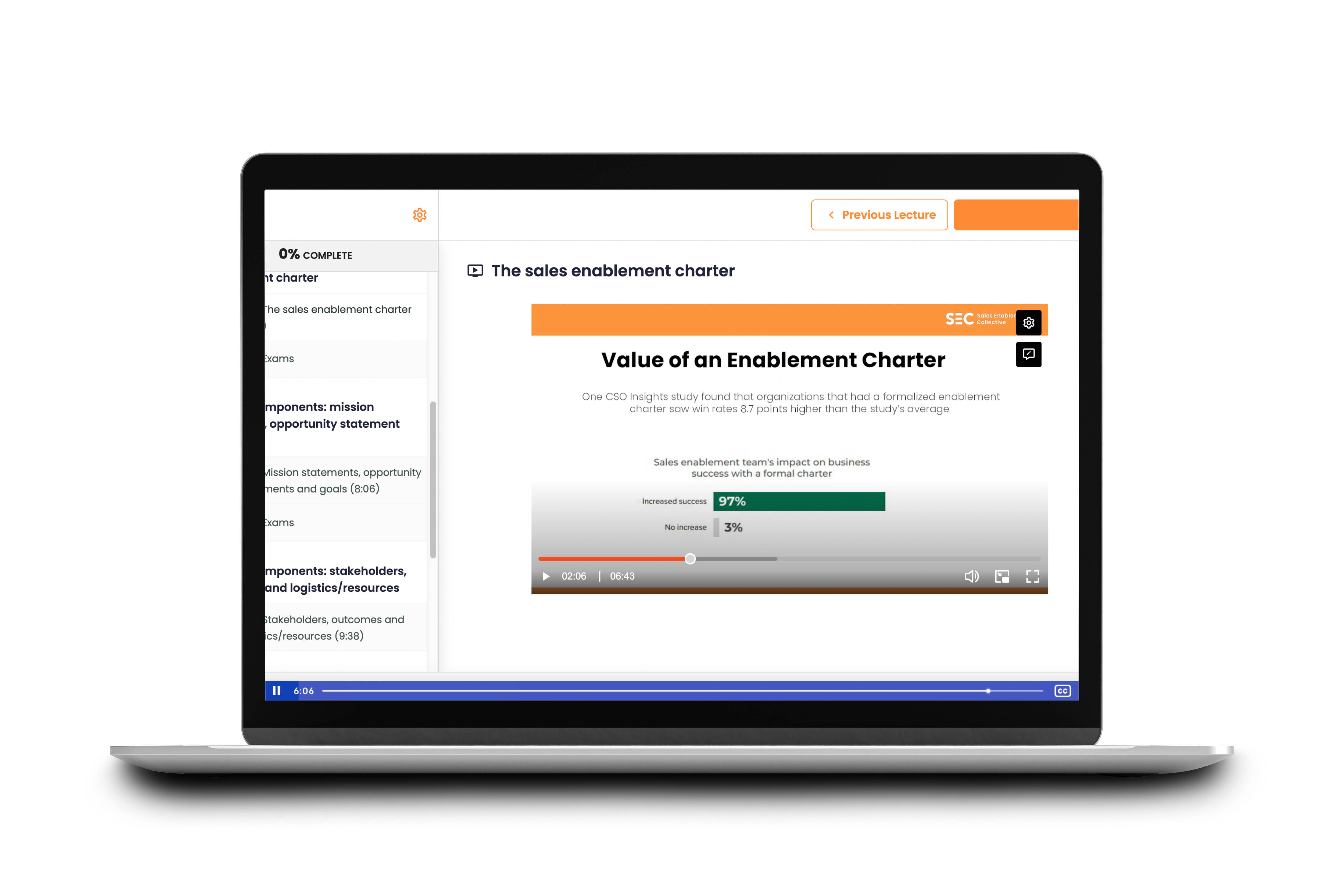 By the end of this course, you'll be able to confidently:


👊 Understand the key pieces of a cohesive, successful enablement strategy and how to implement them into your organization.
🔨 Build efficient and effective enablement programs, as well as the team needed to run those programs.
🚀 Create a best-in-class enablement charter to make your mark in your organization.
📈 Measure the success of your strategy by using the right metrics, which you can then use to prove your function's value.

"A great introduction to Enablement Strategy. Enjoyed listening to Susan. There's lots of valuable tips I can take from this that would have been amazing to have known last year as I was setting up the function."

Dave Sweeney, Enablement Partner at Solutions Driven

You're in good hands.


Susan has a 20+ year career helping global sales organizations and people achieve their goals. Her leadership and experience span global operations, training and development, talent management and process improvement. 
She is a change management and roll-up-your-sleeves leader that provides a track record of success leading strategic initiatives and cost-effective enablement programs that enhance job performance, drive efficiency and deliver business results. She also brings her cross functional and win-win mindset to help drive people, process and productivity across an organization. 
Susan holds a bachelor's degree in marketing and a master's degree in Learning and Development.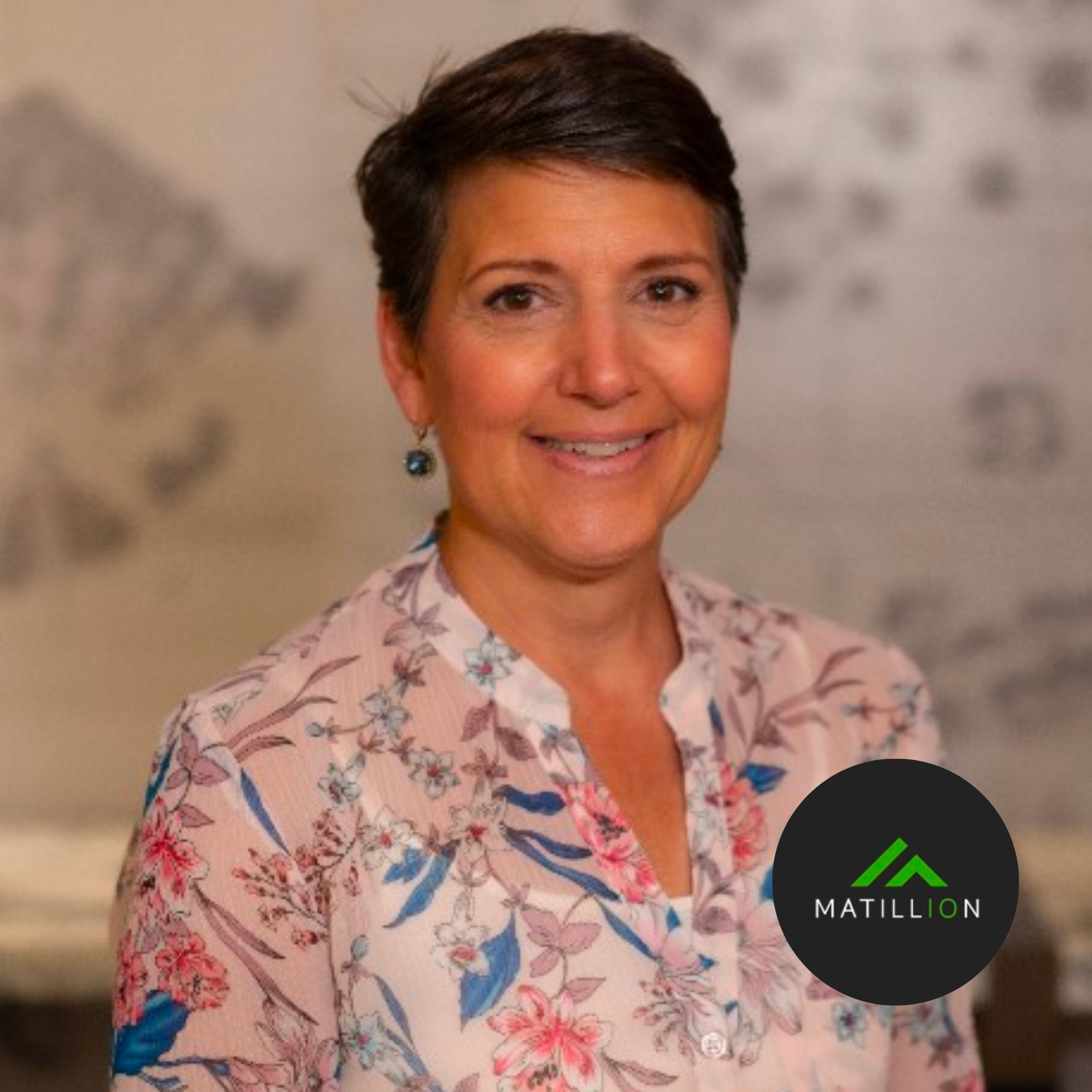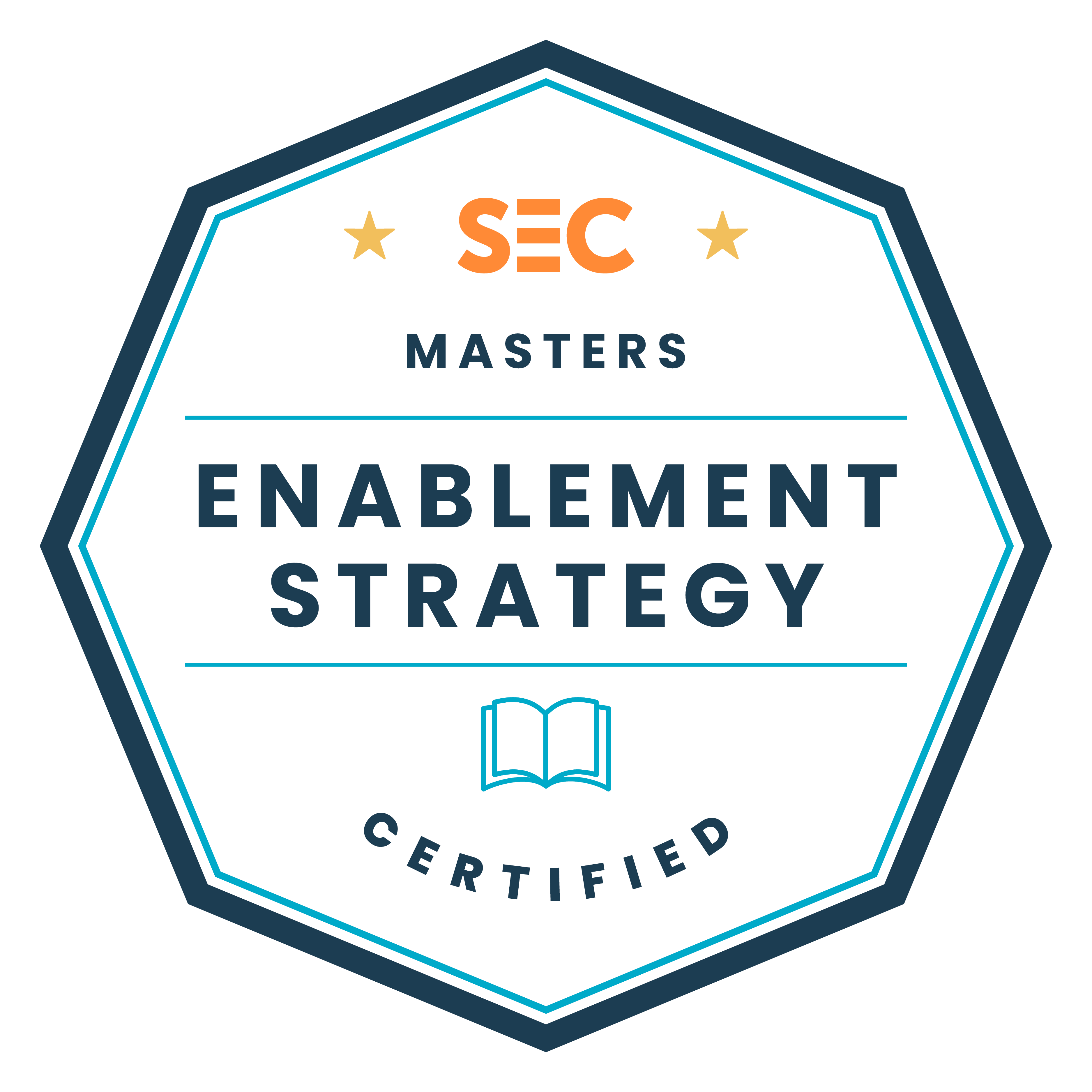 What's included when I enroll?


👩🏼‍🏫 7 insightful modules that cover the breadth of enablement metrics.
✅ 70+ exam questions sprinkled throughout every module to test your uptake.
⏰ 3 hours of content, including bonus material, crammed with expert insights.
🔖 Official certification to boost your resume and grow your career.
📝 Optional coursework and frameworks to consolidate your learning.

"A practical succinct overview of fundamentals with tools and concepts that I can apply immediately. Great course."

Kelly Gillespie, Regional Director, Sales and Marketing at Amica Senior Lifestyles

What you can expect from Enablement Strategy Certified

Don't worry, we do team rates, too.

If you're looking to get a team of three or more certified, then speak to Ayisha about team rates at ayisha@salesenablementcollective.com

P.s. If you need help convincing your boss, we've done the hard part for you here.

FAQs.
Q: Who's this course for?
A: This course is for anyone new to enablement and looking to learn the ins and outs of building a brilliant enablement strategy, or for those who aren't happy with their current strategy and need help turning their strategy into a revenue accelerator. 
Q: How does the course work?
A: The course is 100% online and entirely self-paced. Once you enroll, you'll work through the modules in chronological order and be invited to take part in activities. At the end of each module, you'll be presented with mandatory exam questions and if you pass all these, you'll become Enablement Strategy Certified!
Q: How long will the course take to complete?
A: The course content, activities, and exams will take approximately just over 3 hours to complete.
Q: What happens if I don't pass the exams?
A: If you fail the first time around you'll be given the option to retake the exam. If you fail the second attempt, unfortunately, it means you won't get the certificate. However, all's not lost, you'll have still learned LOTS and you'll be given access to the course materials for life - so you can brush up on the bits you slipped up on forevermore.
Q: How long will I have access to the course content?
A: For life! One, one-off payment gives you unlimited access to all the course's content.

Check out our other courses